Drillmaster Core barrel with bullet teeth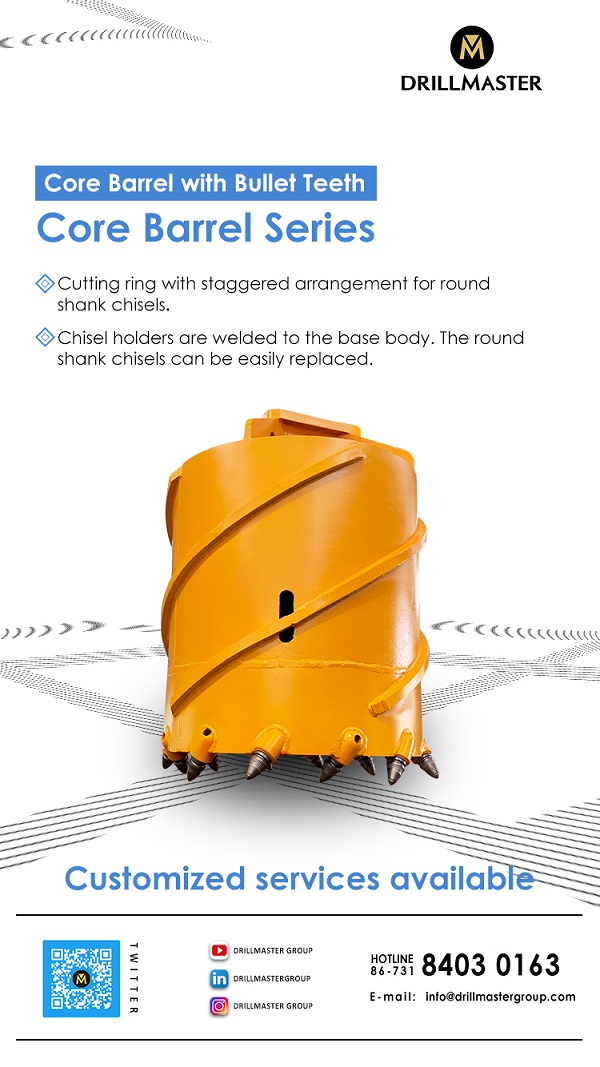 The core barrel with bullet teeth is used for cutting an annular ring in rock or concrete (also reinforced concrete).
Our core barrel can be customized ,If you are interested in our core barrel,please contact us at info@drillmastergroup.com
(DRILLMASTER ENGINEERING TECHNOLOGY CO., LTD. (DRILLMASTER) is a leading solution provider for foundation engineering. As the main enterprise entity, Drillmaster has three subsidiary companies: UNIMATE HEAVY INDUSTRY CO., LTD., P. A TECH CO., LTD., FOUNTECH ENGINEERING MACHINERY CO., LTD., respectively undertaking functions of fabrication, import, and R & D.
DRILLMASTER's main products include: micro drill rigs, kelly bars, drilling buckets & augers, drill bits, casings, tremie pipes, desanders, casing rotators and pile breakers, etc. Taking improving the foundation construction technology as our mission, and by depending on a group of excellent R & D team with years of experience in foundation engineering and construction design, our products have reached the advanced level in China in terms of technology and quality.
Till now, our products have been exported to over 50 countries and regions such as the U. S, the U. K, Singapore, Indonesia, Mexico, Russia, the Middle East and South America, etc, and have been praised unanimously by customers.)