Drillmaster live streaming -Casing Rotator special on July 1st
Drillmaster live streaming -Casing Rotator special will start on July 1st,Jessy from drillmaster group will show you the Casing Rotator Jobsite,stay tuned!
FB:https://www.facebook.com/drillmaster.global/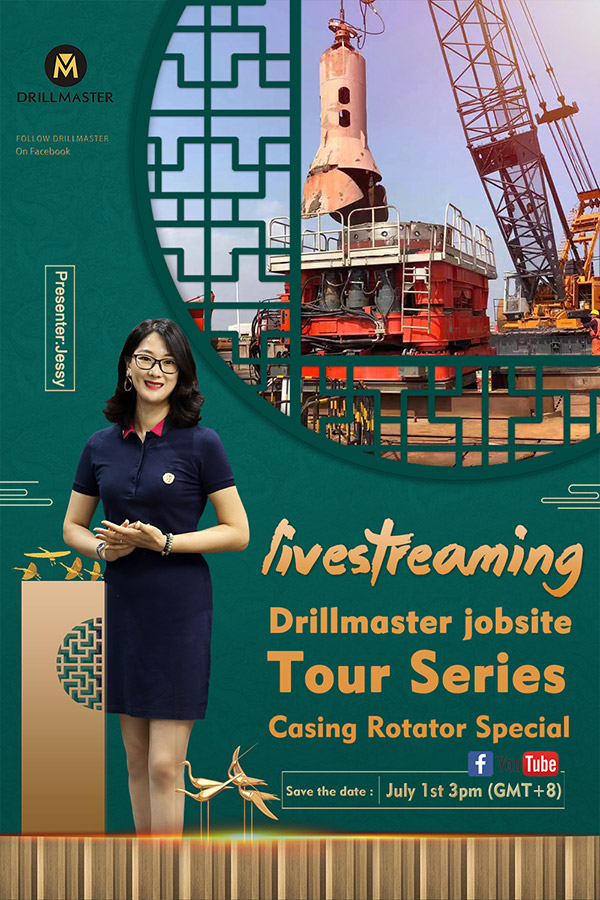 As an advanced modern technology company dedicated to the R&D, manufacture and trade of casing rotators, various foundation drilling tools, attachments and spare parts, by depending on a group of engineers and shilled workers with years of experience in foundation drilling engineering and construction design. Unimate takes the lead in terms of technology and quality in China foundation engineering industry. Now for casing rotators, our mature products have the UMR150H, UMR210H,, UMR260H, UMR350H.
Unimate casing rotator has 4 features:1. A full-casing piling machine. 2.360°Rotation. 3. Providing powerful torque, generally more than 1000KNM. 4. Clamping device to clamp the casing at any position.
Meanwhile,Unimate casing rotator has 5 advantages:1 Suitable for a wide range of strata, especially complex formations.2 Easy to control in case of settlement and displacement. It can be constructed near buildings and underground pipelines.3 High verticality, good quality walling.4 With the protection of steel casing, the walls are free of collapse, no vibration, minimized disturbance to the surrounding buildings, safe construction.5 Construction in karst formation with casing rotator, Avoiding the risk of collapse, buried drilling, and stuck drilling tools due to the use of full casing.
Unimate casing rotator can be your better choice!