Drillmaster 's live streaming in Wuxi on July 15th
On July 15th, 3 PM (GMT+8), we will have new live streaming in Wuxi. In this live streaming, we will show you a beautiful city in China. And also we will introduce our micro drill(piling) rig factory to you.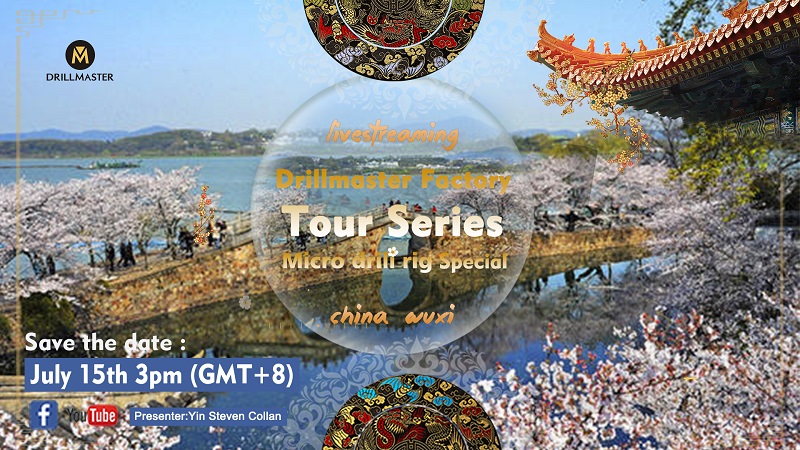 Micro drill(piling) rig is applicable for a wide range of construction. It has lots of advantages :It has stronger torque,and it can work on various stratum layers. It can install&uninstall the drilling tools easily...
Please follow Drillmaster group's Facebook and you can know more about us:
https://www.facebook.com/drillmaster.global/
Stay tuned!
(DRILLMASTER ENGINEERING TECHNOLOGY CO., LTD. (DRILLMASTER) is a leading solution provider for foundation engineering. As the main enterprise entity, Drillmaster has three subsidiary companies: UNIMATE HEAVY INDUSTRY CO., LTD., P. A TECH CO., LTD., FOUNTECH ENGINEERING MACHINERY CO., LTD., respectively undertaking functions of fabrication, import, and R & D.
DRILLMASTER's main products include: micro drill rigs, kelly bars, drilling buckets & augers, drill bits, casings, tremie pipes, desanders, casing rotators and pile breakers, etc. Taking improving the foundation construction technology as our mission, and by depending on a group of excellent R & D team with years of experience in foundation engineering and construction design, our products have reached the advanced level in China in terms of technology and quality.
Till now, our products have been exported to over 50 countries and regions such as the U. S, the U. K, Singapore, Indonesia, Mexico, Russia, the Middle East and South America, etc, and have been praised unanimously by customers.)