Unidrill kelly bar Residential project in Shangdong China
Unidrill 417-3*15.5/interlocking kelly bar did a good job in Shangdong residential project.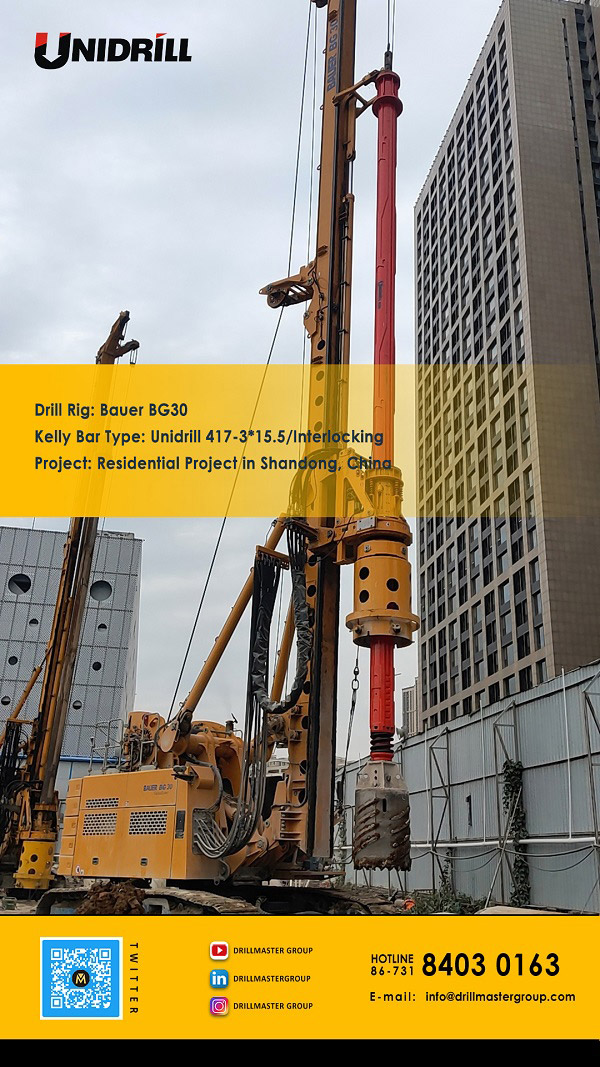 Our kelly bars have many advantages:
1.The most professional R & D and production team
The core R & D, processing and production personnel are all from leading enterprises of this industry, with more than ten years of experience in design and manufacturing of kelly bars. We have provided tailor-made kelly bars and technical services for almost all the well-known brand names of rotary drilling rigs both at home and abroad.
2.Top quality special steel materials
Steel pipes used in our kelly bars come from the selected materials made by the first-class steel enterprises at home and abroad. The yield strength and service life are more than doubled compared with the general-purpose products, meeting the rigorous requirements in drilling hard rock and various strata.
3.The cutting-edge manufacturing technology
The core parts of kelly bars, such as square head, driving keys, and locking recesses, are made of imported steel by special heat treatment and surface strengthening treatment, which not only features high yield strength, wears resistance, impact resistance, strain capacity, welding property and corrosion resistance, but also meets high-reliability requirements of kelly bars in the construction of hard rock, large diameter and super deep piles.
From the strict control of raw materials to multi-layer and multi-step precise welding, we comply with strict quality standards and monitoring systems in all aspects of kelly bar production to ensure 100% high standard quality. We are also the first kelly bar manufacturer in China to provide customers with one-year warranty.
(DRILLMASTER ENGINEERING TECHNOLOGY CO., LTD. (DRILLMASTER) is a leading solution provider for foundation engineering. As the main enterprise entity, Drillmaster has three subsidiary companies: UNIMATE HEAVY INDUSTRY CO., LTD., P. A TECH CO., LTD., FOUNTECH ENGINEERING MACHINERY CO., LTD., respectively undertaking functions of fabrication, import, and R & D.
DRILLMASTER's main products include: micro drill rigs, kelly bars, drilling buckets & augers, drill bits, casings, tremie pipes, desanders, casing rotators and pile breakers, etc. Taking improving the foundation construction technology as our mission, and by depending on a group of excellent R & D team with years of experience in foundation engineering and construction design, our products have reached the advanced level in China in terms of technology and quality.
Till now, our products have been exported to over 50 countries and regions such as the U. S, the U. K, Singapore, Indonesia, Mexico, Russia, the Middle East and South America, etc, and have been praised unanimously by customers.)